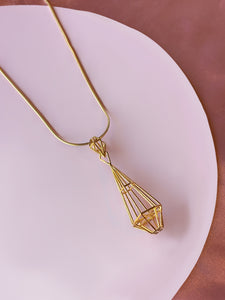 The Dreamer Pendant is meant to be worn as a reminder to follow your dreams. Regardless of if your dreams are big or small they are meant to be followed! The dreamer pendant is here to encourage you every step of the way. 
18K Gold Plated Brass Crystal Inspired Wire Frame Pendant Necklace
Approximately 2.75 inches height by 1.0 inch width. Chain is 30 in in length but can be customized on request.
Currently made to order so may take up to 2 weeks for production time.